Home
**** SHOPMOBILITY IS OPEN - LIMITED DAYS AND TIMES ****
SEE OPENING TIMES FOR DETAILS
The first idea for a shopmobility scheme came from the Peterborough Disabled Drivers Club. When they heard about a proposed large pedestrianised shopping development for the city they realised that accessibility was very important and wanted wheelchairs and scooters available. Shopmobility was formed in 1984 to help provide freedom and independence and to enable you to enjoy Queensgate and Peterborough town centre including the market. The success of this scheme encouraged other towns to open similar schemes.
Our service gives independence, dignity and freedom to all with limited mobility whether through disability, illness age or temporary disability.
We hire out mobility scooters, powered and manual wheelchairs. We also hire manual wheelchairs for long term hire. We have a central location which is friendly, warm, dry and safe, a base in town enabling you to shop, socialise and keep appointments.
Registration is quick and easy, after which equipment can be borrowed.
Our friendly staff will help you choose the right equipment to suit your needs and abilities. We will ensure that you are confident and safe by showing you how to use the vehicle.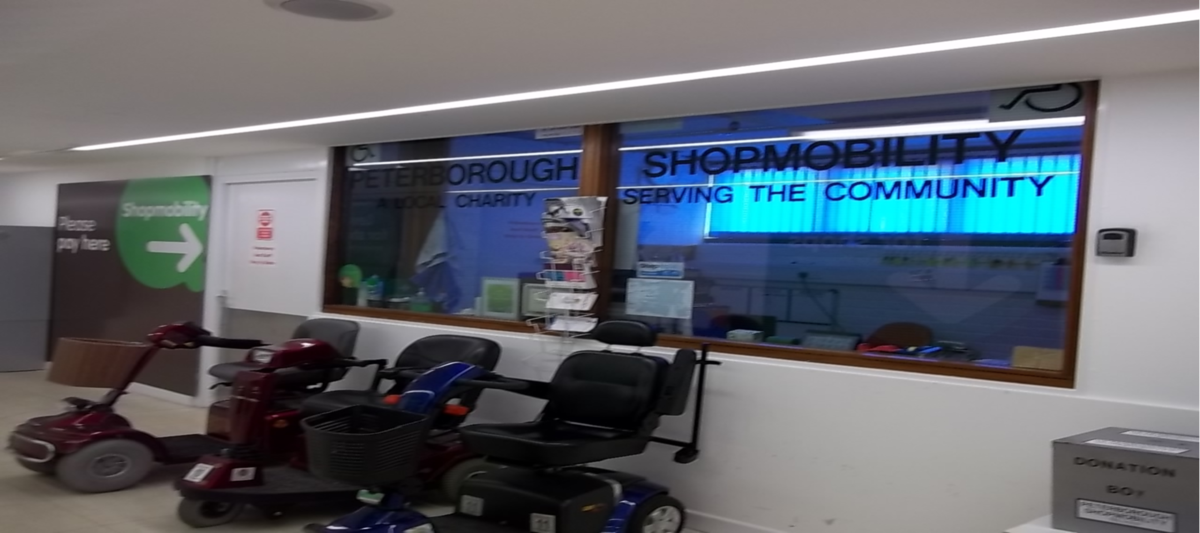 Shopmobility is part of Disability Peterborough a registered charity.
Register Charity number: 1089250